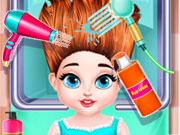 Baby Taylor Flower Girl
Category :
girl
Note :
(0)
---
Description :
Although Taylor is very young, she can participate in other people's weddings. Baby Taylor is very excited but choosy for her dress, so help her in selecting a dress, shoes, and accessories best suitable for her. As Taylor's mother, you need to help Taylor Choosing the right dress is a very unforgettable experience for Taylor, so you have to work hard to create the best hairstyle for Taylor, and then you need to make up for her. Taylor wants to be the most beautiful person at the wedding, so she also needs some accessories.
Control :
Mouse click or tap to play.
Author :
babygames.com
---
Comments
Please login or register to post a comment