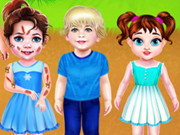 Baby Taylor Learning Manners
Category :
girl
Note :
(0)
---
Description :
Taylor, Nick, and Natalia are very close friends. Today is sunny, the three of them are playing together on the beach. The sand is very soft. They use sand to build buildings of various shapes. Taylor feels a little tired on the beach. So the three of them went to the park to rest. There is a very cute swing in the park, but Tyler accidentally fell off the swing. Tyler felt very painful. As a professional orthopedic doctor, come and help Tyler clean the wound and get treatment, and surgery if necessary.
Control :
Mouse click or tap to play.
Author :
babygames.com
---
Comments
Please login or register to post a comment